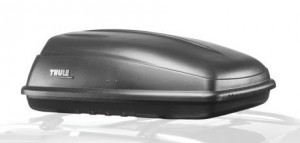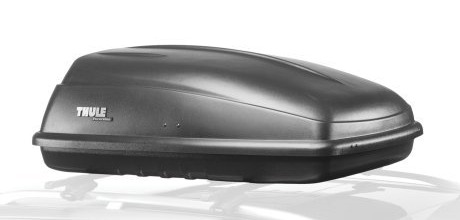 The Thule 667TT Excursion Rooftop Cargo Box comes with a special Quick Release Hardware that makes mounting fast and effortless on most after-market and factory-installed racks. This cargo box also has a convenient rear opening that gives you access from three sides. With its impact and UV resistant ABS construction, your belongings are protected from sudden bumps and sudden changes in the weather.
Offering a 13 cubic foot storage capacity, this cargo box is great for a small family or a group of friends traveling together. Thule also understands your need for reliable security, which is why it added a Central Locking, One-Key System that includes the lock cylinder.
Features
Easy mounting with Quick Release Hardware
Rear opening allows access from 3 sides
Impact and UV resistant ABS construction
13 cubic foot capacity
Comes with Thule's Central Locking, One-Key System
Limited lifetime warranty
The Reviews
The Thule Excursion Rooftop Cargo Box has collected only 14 customer reviews on Amazon.com so far. Most of the reviews are positive, with only 2 users giving ratings below 4 stars.
Those who gave 3-star ratings didn't really experience any major problems with the product. They only had minor issues such as:
A little leaking – One customer found some damp areas in the bag after driving through some rain, but the contents of the bag stayed relatively dry. Placing items in a plastic bag before packing is always highly recommended.
Delivery problems – One user gave 3 stars mainly because of the delay they experienced with delivery. But overall, this customer was still satisfied with their purchase.
Moving on to positive reviews, these are the features most customers appreciated about the product:
Generous space – Most customers were pleased that the Thule 667TT was able to accommodate quite a large number of items. The storage capacity it offered exceeded most reviewers' expectations. All in all, Amazon users were generally happy with the box's roominess.
Easy to install and remove – A lot of users noticeably couldn't help gushing about how easy it is to mount the Thule 6677TT on their roof racks. Removing the box is just as effortless.
Fairly waterproof – Customers are satisfied with this cargo box's ability to protect its contents from the weather elements. Moisture still seems to find its way inside every now and then, so make sure to place items in plastic bags if you expect to drive through some rain.
There aren't that many customer reviews yet for the Thule 6677TT Excursion Rooftop Cargo Box, but everything looks good so far. There aren't any discouraging complaints about the product to date and reviewers generally agree that this cargo box is reliable.
It also doesn't hurt that the box looks modern and sleek. You surely won't feel embarrassed driving around with this box on top of your car. It seems well-made and cleverly designed. And as with most Thule cargo boxes and bags, you won't have a hard time mounting this on your vehicle's roof rack.