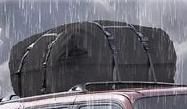 The Rain-X 161040 Water-Resistant Roof Top Cargo Bag is great for camping adventures and road trips. It expands your vehicle's storage space and it is made of water-resistant nylon to keep moisture out. It's easy to install and remove so you can spend more time enjoying your road trip and less time worrying about your luggage.
This cargo bag comes with sturdy tie-downs that are easy to attach. The bag is heavy-duty and designed to withstand the weather elements. When not in use, it folds flat so you can easily store it away.
Rain-X 161040 Water-Resistant Roof Top Cargo Bag Features
Easily attaches to your car's roof top rack
Provides spacious storage
Made of water-resistant nylon
Easy to install and remove
Heavy-duty construction
Includes tie-downs
Folds flat for easy storage
The Reviews
The Rain-X 161040 Water-Resistant Roof Top Cargo Bag has garnered 104 reviews on Amazon.com so far. Most of the reviews were positive, with customers giving high points for its ability to protect items in most weather conditions.
26 Amazon users were not very impressed with the product. Here are some of the issues they raised:
Gets stiff in cold weather – According to some customers, the zipper can be challenging to open and close—especially in cold weather when it can get quite stiff.
Size smaller than expected – A number of users also mentioned that the bag didn't have as much space as they had anticipated. But they didn't really consider this to be a deal-breaker.
Manufacturer left out a vital piece of information – Some reviewers with 2-rail rack systems on their cars were disappointed to receive the product—just to find out that it only works with a 4-rail rack system. Perhaps this was an oversight by Amazon.com.
There were several positive reviews for this product. Satisfied customers had the following things to say:
Easy to install – Attaching the cargo bag to the roof top is relatively quick and simple. It's also easy to remove when you're done using it. Best thing of all, the bag can fold flat, making it very easy to store.
Durable material – Customers were also pleased to find that the bag did not break or tear under the weight of its contents—even when the load was quite heavy.
Weatherproof – Although there were reviewers who mentioned that this bag was not exactly waterproof, there are plenty of customers who claim that they have used this bag in very wet weather and were able to keep all their belongings dry.
Generally, the Rain-Z 161040 Water-Resistant Roof Top Cargo Bag sounds like a great buy. Majority of customers think it is worth the price and it is fairly good in terms of performance and quality.
There may be minor problems, such as the zipper getting stiff in cold weather, or a little water leaking into the bag during heavy rainfall, but these are issues that can be fixed and overlooked without much trouble. It is a durable bag that provides a reasonable amount of space. All in all, for its price, the Rain-Z 161040 sounds like a good deal.