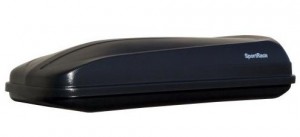 The SportRack A26395 Aero 1300 Car Top Carrier is the ideal solution for a those moments when you have limited space in your vehicle. This box offers plenty of additional space for skies and other gear. It's also ideal for transporting vacation necessities, sports equipment and luggage. It mounts on nicely to any crossbar.
This unit provides added safety and convenience by providing a locking mechanism and passenger-side opening. This roof box can accommodate cargo that weighs up to 110 pounds. This box will work well with mid-sized cars, SUVs and minivans. The dimension of the A26395 are 16 x 23 -1/2 x 75 inches. It comes standard with U-bolt mounting bracket kit and has a carry capacity of 360 liters or 13 cubic feet.
Features
Has a capacity of 13 cubic feet, equivalent to 368 liters.
Comes with a U-Bolt mounting kit that quick releases. Compatible with most OEM and aftermarket crossbars.
Includes lock which provides for easy and safe curbside access. Passenger side opening design.
UV-resistant and durable ABS construction.
Measures 75 x 23.5 x 16 inches. Has a maximum load capacity of 50 kg (110 lbs).
The Reviews
The SportRack Aero 1300 Roof Box was reviewed by 56 different customers. It had very good reviews and positive comments. Overall, it received 4 and a half stars out of a possible 5. Many reviewers liked the fact that it was very easy to assemble and some noted that they didn't notice that fuel mileage has been affected. It is very easy to put on and take off of a standard crossbar. It does come fully assembled, the only thing you would need to do is assemble the brackets that fasten it to the crossbars.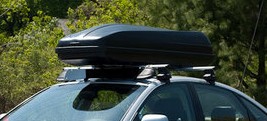 Many liked that it fit perfectly on the bars. It comes with a strap inside of the lid and makes it easier to reach and to pull it closed. Several of the people that purchased this cargo box had SUVs and many had a medium sized family, with two adults and two kids. Other models just seem to be out of the budget ranging about $600+, but this product allows people with a limited budget and a real need for space. It's hard to beat the free shipping and it ships pretty quickly.
Some felt that the product felt a little flimsy coming out of the box, but when it was attached to the crossbar, all doubts were quickly erased. It can withstand quite a beating from Mother Nature: blizzards, strong winds and rain. It also stands up to the high-speeds when driven on the freeway.
Reviewers did note that the locks work pretty well and when things are packed inside, there is good protection that prevents items inside from moving around the box. This will prevent the lock from opening. If you stuff the box and try to lock it, the lock won't lock unless all the locks are fully engaged. This is a good security feature that will ensure that the box will not open during your drive. Your gear is fully protected and it looks really good on the top of your car.