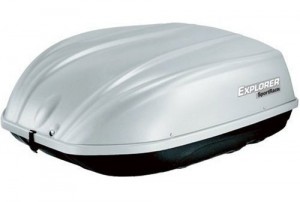 The SportRack A90095 Explorer Car Top Carrier offers plenty of space and durability. This cargo box was specially designed for those needing added storage space than what is currently offered in their vehicle. This roof box is quite strong and made of high-density polyethylene, which is quite sturdy and can hack the pressures brought on by rocks, bumps and other other challenges thrown its way.
The A90095 offers plenty of space to accommodate, heavy sports gear and extra luggage. Though it offers a lot of space, it doesn't get in the way of driving. It can carry packages that have a 100 lb capacity. It measures 54 x 19.5 x 39 inches and weighs just 32 pounds when the box is empty. It comes standard with a U-bolt mounting bracket.
Features
Roof box that has 18 cubic feet capacity.
Can be mounted on many aftermarket and OEM crossbars. Comes with a u-bolt mounting kit.
Box needs to be assembled.
Simple design that allows side opening. It also includes a lock for easy and secure curbside access.
Measures 54 x 39 x 19.5 inches. It weighs 32 pounds when empty and has a maximum load of 100 pounds.
The Reviews
The SportRack Explorer Roof Box was reviewed by 48 different people. Out of 5 possible stars the product received 4. A quick review of the comments did show a lot of good positive comments overall. Many liked the fact that your gear is kept safe within the cargo box. One family put it to the test immediately after ordering the product. They had driven through a major snow storm. Tons of cars had to stop because of the harsh conditions, but they just trekked on. When they reached their destination, there was not a drop of water inside.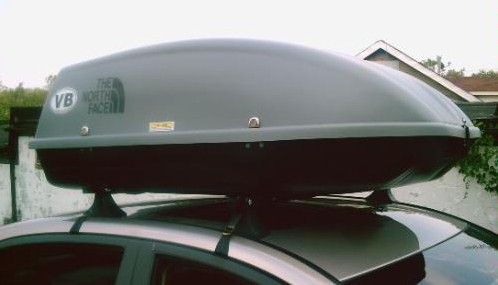 Reviewers liked that it is very spacious. One person had said they were able to store 2 pieces of luggage that were easily over 20 inches each with a small duffle bag. It was able to accommodate everything quite nicely.
Many liked the price for the space and security you get. Other cargo boxes that have the same product offering sells at 2 or even three times the price of this model. Don't let the low price fool you. This is a great alternative. When the product arrives, it does look a little flimsy, but when it is attached to the crossbars, you soon see that it is a good quality product.
Some people forget that this box is attached to the vehicle because it does not make any noises, even though you encounter wind. This will definitely solve some of the storage problems you currently face, especially if you have a family to think about.
Some people had commented saying that the material is thin and flimsy and does not seem as strong as ABS plastic. One person noted that after several hours of being parked in the sun, it softens to a point where you may have problems to close at the top. One reviewer did say that it was quite painful to put together. He said that it was definitely a 2 man job, but he did say that he was mechanically challenged.