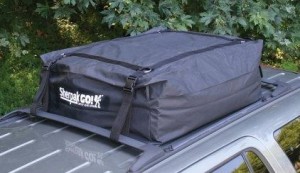 The Sherpak Go! 15 Cartop Storage has a weatherproof design and is made of heavy-duty materials. It boasts of radio-frequency-welded seams for reliable protection. This bag also attaches easily on top of your car, with or without a roof rack. A deeply recessed zipper and heavy-duty UV-resistant vinyl construction keep away extreme heat and moisture.
This bag comes with heavy-duty plastic hardware and a universal attachment system. It offers up to 15 cubic feet of extra storage. Whether you're packing for a camping trip or a long drive to your favorite vacation destination, the Sherpak Go! 15 Cartop Storage is a great space-saving accessory to take along.
Sherpak Go 15 Cartop Storage Features
RF-welded seams
Deeply recessed zipper
Heavy-duty UV-resistant vinyl construction
#10 coil zipper
Comes with heavy-duty plastic hardware
Includes universal attachment system
Straps easily to cars with or without rack systems
The Reviews
To date, this product has only garnered 20 customer reviews on Amazon.com. Almost all of the reviews are positive, with only 1 user giving this cartop storage a rating of 3 stars.
The one customer who gave it 3 stars presented the following reason:
Cargo bag was stolen – the only reason this customer gave a low rating was because of her unfortunate experience of having her cargo bag stolen. Someone cut the straps and walked away with the bag and all its contents—a reminder that we should never leave our valuables unattended.
Majority of customer feedbacks were positive. Here are some praises for the product:
Durable – Reviewers who have been using this cartop storage bag for some time now can attest that this product is tough enough to withstand harsh weather. Its built to give you years of good service.
Easy to install – Customers were also delighted to find that this cargo bag is truly quick and easy to install on your car's roof top—with or without a rack system.
Ample space – Reviewers were happy to report that the bag truly performs as advertised and provides adequate storage space for their luggage. It doesn't show any signs of breaking or tearing even when the load is quite heavy.
Truly weatherproof – Amazon users were impressed at how well this cargo bag can hold up in any weather. Even when driving through heavy rains, the contents of their Sherpak Go! 15 stayed dry.
Stays put on roof – Customers also observed that the Sherpak Go! 15 has more than enough straps to keep it firmly in place on your roof while driving—giving you peace of mind and more time to enjoy your road trip.
There are only 20 reviews for this product, but customer feedback looks promising so far. No one has given a negative review for the Sherpak Go! 15 Cartop Storage just yet. Everyone agrees that this bag is tough enough for use even through extreme weather.
It provides generous space, plus, it's wonderfully quick and easy to attach on top of your car, whether you have a rack system or not.